entri kapal perang...bila mau beli baru eh...??
Malaysia...sebuah negara littoral dgn pantai dan wilayah laut yg luas dilihat mempunyai kapabiliti logistik maritim yg terbatas dlm angkatan lautnya...dgn dua buah kapal Multi Purpose Command and Support ship buatan Korea yg kini menjadi satu2nya mainstay logistik armada negara...
KD Mahawangsa dan KD Sri Inderasakti kini mendukung tanggungjawab tersebut...dan kehilangan KD Sri Inderapura dalam kebakaran masih lagi menjadi igauan angkatan laut negara...
Memperlihatkan jumlah kombatan permukaan yg semakin bertambah...keperluan kapal2 logistik ini semakin kritikal...sebagai platform yg menyokong operasi rondaan dilaut dr segi pengisian bahan api dan pembekalan...selain sebagai nadi ulang bekal antara pangkalan tentera laut di semenanjung dan Malaysia Timur...dan juga sebagai platform bg operasi pendaratan amfibia...
Sebelum pergi lebih jauh...mari kita tgk aset logistik RMN yg masih dlm perkhidmatan....
KD Mahawangsa escorting MV Bunga Mas Enam of MISC Berhad...long before BM5 were introduced
KD Mahawangsa dgn no pennant 1504 merupakan Multi Purpose Command and Support Ship yg dibina di Korea oleh adalah kapal seberat 4300 tonne dgn kapasiti 600 orang tentera....ruangan kargo yg mampu menampung 1000 meter padu kargo...geladak kenderaan seluas 680 meter persegi selain mampu membawa 10 unit kontena berukuran 20 kaki....
Ditauliahkan kedalam perkhidmatan RMN pd tahun 1983...kapal ini mempunyai fasilitas utk pendaratan helikopter....selain tanjakan bg geladak kenderaan disebelah kiri dan kanan buritan.
KD Sri Inderasakti...she relieved KD Mahawangsa in Aden for escort duties...after MT Bunga Melati Dua and 5 hijcaking incident...
KD Inderasakti mempunyai kapasiti yg hampir sama dengan KD MAHAWANGSA...walaupun dibina oleh limbungan yg berbeza...struktur kapal seperti kedudukan funnel..kren dan geladak penerbangan adalah perbezaan ketara kedua2 kapal ini...
Selepas insiden kebakaran KD Sri Inderapura...aset terbesar dalam angkatan laut negara...byk desas-desus mengenai wujudnya keinginan kerajaan dan RMN sendiri utk memiliki kapal pengangkut logistik yg mampu memenuhi keperluan semasa dan akan dtg armada....
Pelbagai spekulasi kedengaran....seperti pembelian kapal LHD Dokdo dari Korea....LPD Makassar class dari Indonesia dan lain2 lagi....
LHD DOKDO - REALISTIK KEPERLUAN DAN KEMAMPUAN RMN
Dokdo class LPH - massive amphibious assault platform..
Tanya lah sesiapa pun...jika diberi pilihan utk pengganti LST ex-Newport class yg terbakar...pasti rata2nya memilih LPH Dokdo dari Korea...berdasarkan saiz dan kapasitinya..selain terdapat petanda2 strategik yg menunjukkan kecenderungan pemilikan kapal mega tersebut...
Buka la mana2 forum militer dan blog militer yg ade di Malaysia nih....hampir 85% dari mereka2 yg komen akan mengusulkan atau menyokong pembelian LPH Dokdo....baik kerana sistem persenjataannya...mahupun kapasiti dan kapabiliti serangan amfibia dan kemudahan bg menempatkan pesawat VTOL dan juga sejumlah besar helikopter maritim...
Namun realitinya...kapal sebesar itu x mampu utk dioperasikan angkatan laut negara....ingin sy nyatakan disini sblm pergi lebih jauh...segala penulisan adalah pendapat sy sendiri..dgn bantuan rujukan dan rumusan realistik...
Sambung balik...kenapa saya mengatakan Dokdo x mampu dioperasikan negara...?
Kapal bersaiz 199m panjang dan 31m lebar dgn berat 18 800MT ini adalah platform serangan amfibia dgn kemampuan utk menempatkan 200 kenderaan tempur atau 720 anggota marin bersama2 6 main battle tank dan 7 amphibious assault vehicle dgn tambahan 2 LCAC dan 15 helikopter maritim...
Kemampuan kapal ini mmg x dinafikan...namun realitinya...fasilitas dlm negara selain keperluan utk mempunyai sejumlah besar krew utk mengoperasikan kapal dan pesawat yg akan ditempatkan di kapal ini menjadi tanda tanya....dlm keadaan kerajaan mempunyai pendapatan yg x seberapa...pemilikan Dokdo adalah diluar kemampuan buat masa sekarang...selain fokus terutama RMN adalah utk menambah dan meningkatkan keupayaan kombatan permukaannya yg sedia ada...
adalah logikal dimana RMN menumpukan proses penambahan dan peningkatan keupayaan aset kombatan permukaan buat masa sekarang dimana ini merupakan petanda penting bg sesebuah armada utk beroperasi dgn efektif...logika nya...adalah tidak masuk akal utk RMN mengoperasikan sebuah kapal pengangkut tanpa perlindungan secukupnya dari kombatan2 yg lain...disebabkan faktor kapal pengangkut itu sendiri yg merupakan teras bg sesebuah operasi tentera laut...selain sifatnya yg lebih defensif dari segi persenjataan berbanding kapal perang permukaan lain...serta merupakan sasaran paling utama yg perlu dimusnahkan dlm satu2 pertempuran kerana kemampuannya utk mengangkut sejumlah besar anggota dan kelengkapan dlm satu2 serangan...
tanpa pengiring yg secukupnya atau kredibel...kapal pengangkut tersebut bakal menjadi sasaran mudah bagi musuh...
dlm masa kini...perolehan kapal sebegini dpt dispekulasikan sbg dalam perancangan jangka masa panjang...malah adalah tidak keterlaluan jika dikatakan...sepanjang masa perancangan tersebut...akan wujud lebih banyak option yg lebih baik dari segi harga dan juga kapabiliti selain dari option2 sedia ada pd masa sekarang...yg mungkin menjadi tarikan RMN berdasarkan keperluan dan kemampuan negara...
apa yang pasti...aset yg diperlukan perlulah bersifat multirole..sesuai dgn kemampuan perbelanjaan negara..dan pada masa yg sama...memenuhi keperluan pertahanan negara dari pelbagai aspek...dan bukan sebagai aset menunjuk2...
ABSALON - KEARAH PLATFORM LOGISTIK PELBAGAI GUNA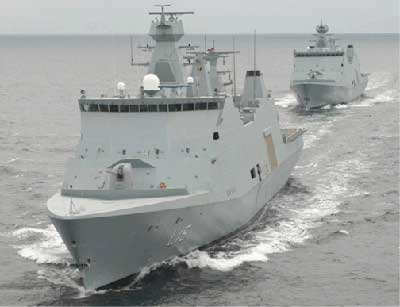 L16 Absalon and L17 Esbern Snare
dua kapal pengangkut pelbagai guna milik Tentera Laut Denmark...HMDS Absalon (L-16) dan HMDS Esbern Snare (L-17) adalah contoh terbaik dalam memenuhi keperluan logistik ketenteraan...
kedua2 kapal ini dibina dari asas sebuah frigate yg memperlihatkan rupa bentuk kapal ini yg menyerupai sebuah kombatan permukaan...dgn penambahan ruangan kosong dipanggil flex deck yg bertindak sebagai ruangan bg menempatkan 55 kenderaan tempur termasuk 7 MBT dan juga penginapan bg anggota tentera sehingga 300 orang atau bertindak sebagai sick bay dgn menempatkan modul hospital...
terdapat juga keupayaan utk kapal ini melaksanakan operasi menyemaian/pemusnahan ranjau laut dgn menempatkan modul kontena digeladak yg dinyatakan..geladak penerbangan boleh menempatkan dua buah helikopter pd satu2 masa...
keupayaan tempur Absalon adalah setaraf dgn kombatan permukaan biasa dgn adanya modul dipanggil StanFlex (Standard Flex) yg boleh menempatkan persenjataan prinsipal seperti misil anti pesawat dan misil anti perkapalan...bersama2 persenjataan sekunder yg kebiasaannya terdapat pada kapal2 perang seperti frigat dan korvet...
pengunaan modul ini sangat kos efektif dan ia digunakan oleh hampir semua kapal perang Denmark dimana modul ini boleh ditukar ganti seperti Lego membolehkan sesebuah kapal perang diubahsuai atau dinaiktaraf dalam masa yg singkat...kos naiktaraf sistem dan persenjataan yg dilakukan oleh Denmark terhadap salah satu class kapal perang mereka adalah pada 1 billion Euro...berbanding perbelanjaan yg dibuat oleh negara2 eropah lain dgn kos 2.2 billion Euro..
Absalon mempunyai 5 slot StanFlex utk modul penembakan peluru berpandu...boleh menempatkan 8-16 peluru berpandu anti kapal AGM 84 Harpoon Block II dan misil anti pesawat lancaran menegak RIM 162 ESSM/RIM-7 Sea Sparrow...mejadikan kapal perang pengangkut ini mampu utk beroperasi secara ofensif tanpa pengiring seperti kapal2 pengangkut lain yg lebih bersifat defensif....
walaubagaimanapun...kapal pengangkut ini mempunyai keupayaan pendaratan unit amfibia yg terhad dimana tiada flood deck utk kegunaan lancang pendarat atau hoverkraf...selain kapal ini perlukan jeti bg memunggah kenderaan tempur dan anggota tentera..selain fasilitas penerbangan yg terhad..namun konsep nya yg membolehkan satu platform mempunyai peranan pelbagai adalah amat kos efektif dan genius...
Absalon dan konsepnya dilihat sesuai dgn doktrin pertahanan negara yg menuju kearah Jointness dlm mana2 operasi kombat...Absalon merupakan contoh terbaik dimana satu platform mampu utk melaksanakan pelbagai tugasan.Keupayaan yg pelbagai ini adalah bonus kepada armada RMN scr khas nya dan kepada MAF amnya.
Hampir semua operasi yg berkaitan dgn peperangan maritim boleh dilaksanakan dgn Absalon dan pd masa yg sama pemilikan Absalon dpt memenuhi byk kekurangan yg wujud dlm RMN..
JOINT SUPPORT SHIP - LOGISTIK DAN SUPPORT DISATUKAN

berbeza dengan Absalon...JSS adalah program kapal pengangkut logistik dan bantuan yg proper...dgn hull design sedia ada tanpa persenjataan prinsipal seperti kombatan permukaan tetapi lebih menekankan keupayaan pelbagai diatas satu platform bg menyokong operasi armada...
konsep JSS juga mendapat tempat di hati angkatan laut Netherlands dimana konsep semua dalam satu adalah lebih ekonomikal dari segi kos selain rekabentuk yg digunakan datang dari rekabentuk kapal2 dagang yg sedia ada...selain keperluan utk menggantikan kapal sokongan sedia ada yg lebih berkemampuan utk menyokong dua kapal LPD (Landing Platform Dock) HNLMS ROTTERDAM dan HNLMS JOHANN DE WITT yg bertindak sebagai kapal pengangkut amfibia.....

terdapat juga rekabentuk dan konsep JSS yg turut menekankan keupayaan serangan amfibia dengan geladak penerbangan yg lebih luas serta fasilitas hangar yg lebih besar..flood deck utk melancarkan lancang pendarat selain fasilitas2 utk kegunaan logistik dan support seperti refueling point...

walaupun keperluan Netherlands adalah berbeza dan JSS lebih menekankan keupayaan ulang bekal dan sokongan kombat sebagai keupayaan utama...adalah x mustahil bg RMN utk memiliki kapal seperti JSS yg pelbagai guna...dgn keupayaan sokongan logistik dan ulang bekal....dan pada masa yg sama mampu melaksanakan serangan amfiba....

KESIMPULAN


dlm ketidaktentuan senario global dan ekonomi masa kini...selain kewangan yg terhad utk pertahanan negara...pemilihan platform permukaan pelbagai guna dilihat lebih dinamik, walaupun aset2 seperti ABSALON dan JOINT SUPPORT SHIP dikira lebih tinggi kos pembuatannya....akibat dari penyatuan dua hingga tiga keupayaan tempur pada satu platfrom...

walaubagaimanapun..keupayaan pelbagai pd aset2 yg dinyatakan ini memberikan added bonus kpd RMN bg membolehkan angkatan laut negara ini dapat beroperasi dgn lebih efektif.

apapun...contoh2 yg diberikan diatas x semestinya akan digunakan oleh RMN....jika ia dipilih...terdapat byk spesifikasi..dari segi saiz dan keupayaan yg diperlukan MAF dan memenuhi keperluan RMN yg akan membezakan platform milik negara dan platform yg dinyatakan diatas....

semoga tahun baru 2012 akan membuka lembaran yg lebih baik utk RMN....

thanx for the escort